Make the holidays brighter for a child at LACASA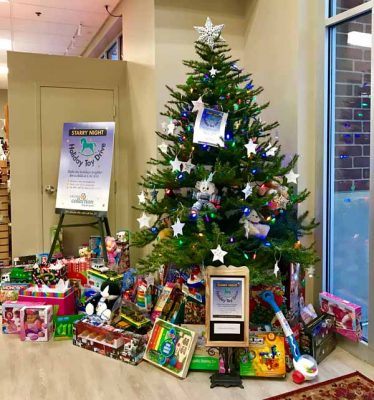 We invite you to be part of our "Starry Night" Holiday Toy Drive at the LACASA Collection, our unique resale boutique in Howell. Your donation will bring holiday cheer to a child in need at LACASA Center.
The toy drive collection kicks off at the store on Nov. 11 and ends on Dec. 21, 2019.
How it works:
Place a new, unwrapped gift under the store's giving tree
Write your name or initials on a star ornament
Hang your star on the tree
In return for your donation, you will receive a 50% off coupon for one item in the store (Excludes furniture; valid until Jan. 31, 2020)
Your new toy donation will brighten the holidays for children at LACASA's Crisis Shelter and LACASA's Children's Counseling Center. In addition, parents who are clients at LACASA receive toy shopping vouchers, which will ensure Santa's sleigh is stocked with everything needed for the big holiday ride.
Please direct questions to Jessica Bergum, Communications Manager, jbergum@lacasacenter.org
What LACASA kids need:
Arts & crafts kits
Remote control toys
Infant/toddler toys & books
Board games, card games, movies & books
Gift cards for pre-teens & teens (Visa or department store cards)